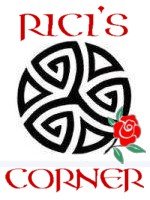 Welcome to "Rici's Corner"!
This is a show dedicated to celtic music and celtic culture, hosted by Rici86.
In "Rici's Corner" you're gonna encounter the celtic spirit, deepen the celtic life style, and, of course, listen to the best celtic music from all over the world. You'll discover musicians and songs, history and legends coming from celtic lands.
Enjoy "Rici's corner" on Mooz Fm!
And every first friday of the month, don't forget the special appointment with
"Rici's Corner – Album of the month"
where you'll find news about the latest releases by the best celtic artists and you'll rediscover fine gems from the world of celtic music.
<<< Every Friday @ 15:00 UTC >>> 
Discover the complete schedule
Season 1, november 2011 – may 2012
Season 2, since 30th november 2012
Get in touch!
Do you want to suggest a topic for an episode? Would you like to hear something about a legend, a singer, a band, a curiosity? Or do you simply like to get in touch with me?
Send me  a message: